Love is in the air.
It appears that with the looming of Valentines day (*hint hint* to any interested parties who may be reading this), love in deed is in the air. As if to upstage yesterday's "wedding of the year" between Logie golden boy Rove McManus and Belinda Emmette and of course, who can forget Donald Trump and his latest.... Lleyton Hewitt has proposed to Bec Cartwight.... awww

According to the conceirge at the Park Hyatt hotel in Melbourne:

"Magic was in the air, and of course love was in the air. The two parties looked fantastic together and they were both very happy,"

And why wouldnt they be... in fact, their engagement would provide the perfect storyboard for the latest 'fuzzy feeling' mastercard ad:

Tiffany & Co diamond engagement ring: $200,000

Lleyton Hewitt's Aus Open runner up prize money: $600,000
What he would have got if he had won: $1,200,000 ( you do the math)

What Bec Cartwright's gonna get selling her 'exclusive story' to New Idea: $1,000,000 (estimate)

Having Bec Cartwright endure hours and hours of tennis: Priceless

And watch the tennis she did! The Age has even published photos of her journey towards becoming the best tennis-girlfriend she could be:



"What do you mean he isn't an F1 driver?"


Lleyton, you had me at "come'on".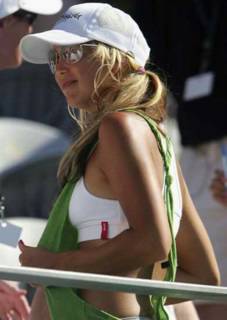 Bec gives Lleyton their secret thumb-up signal and cheekily hints: "honey, after you finish the Russian off, i'll cook you a nice dinner ... look, i've even got my apron on already"


After weeks of practice, Bec has finally mastered the 'tense and concerned face'. "yes" she thinks to herself "i'll just adopt whatever facial expression his coach has... now who says i can't act?!"



I'm sure some of you must think that i'm some shrew old woman who is completely cynical and unromantic. Well, you're probably right about the shrew and cynical part... but i definitely do believe in romance.... just not with Lleyton Hewitt.